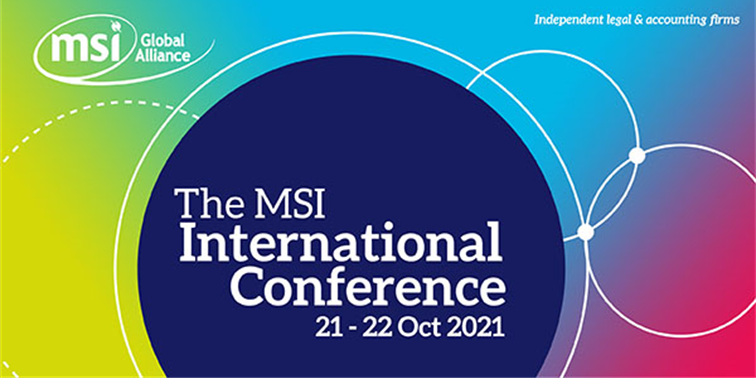 We're proud sponsors of the upcoming MSI International Conference (21-22 October 2021).
The MSI is a leading global association of over 250 independent law and accounting firms with in-depth knowledge and experience across many different sectors. This virtual event will bring together delegates from MSI member firms from around the world.
'Adapting to succeed' is the apt theme of the conference. The immersive experience provides a full programme of topical discussions with keynote speakers and interactive sessions including Brian Coventry, our CEO, who will be part of the panel session on 22 October at 4:15pm discussing how non-technical experts should procure technology.
The themes of the conference presentations are designed to address members' current priorities and concerns and explore emerging trends.
Introducing our unique cloud accounting software
We'll be showcasing CloudCapcha at our virtual stand where delegates can find out more about our time recording and productivity solutions for Accountancy Firms, without changing your practice management system, which can be expensive and could involve unwanted disruption.
We will be introducing WorkCapcha which is part of the CloudCapcha family. This is our unique cloud-based timesheet solution which connects to your current practice management system and delivers a significant return on investment immediately. The insights will help a firm increase billing by reducing the leakage of unrecorded time as well as enabling firms to understand the true cost of production, especially for those fixed fee clients.
The accurate data captured takes a firm beyond a traditional time recording exercise. The insights help an accounting firm make informed decisions on productivity, resources, training, pricing, and even wellbeing.
As WorkCapcha is built within Microsoft Teams, it means that users need only 20 minutes of self-service training, at most.
Book a meeting with CloudCapcha
If you're attending the conference, then why not book a 1-2-1 meeting with us to find out how your accounting firm can benefit.
If you are an MSI member you can register to attend the MSI conference here.
If you're unable to attend but would still like to meet us and learn more, just book a call with Julie Bealey.